Santa Muerte : Sainte Matronne de l'amour et de la mort
Kate Kingsbury

Département d'anthropologie, University of Alberta, Edmonton, Alberta, Canada

R. Andrew Chesnut

École des études du monde, Virginia Commonwealth University, États-Unis
Keywords:
Santa Muerte, love, women, Mexico, femicide, gender violence, weapon of the weak, death cult, magic, Catholicism
Abstract
In this article, we argue that while Santa Muerte, a female Mexican folk saint is often portrayed as a narcosaint associated with drug traffickers and delinquents, she is in fact much more than that. We conducted interviews with female followers, who outnumber male followers, and owners of botanicas (esoteric stores). These interviews formed the basis of our research. We argue that because of the persecution and difficulties single women face in patriarchal and impoverished societies such as Mexico and South American countries, women without boyfriends or husbands face financial and security difficulties. Our analyses confirm that these women try to improve their lot by turning to Santa Muerte for miracles of love. We argue that Santa Muerte has too often been associated with narcoculture and Mexican drug cartels and that these representations neglect the important role of women in the growing popularity of her cult.
References
Aguirre Beltrán, Gonzalo, 1958. Cuijla : Esbozo etnográfico de un pueblo negro. [Cuijla : Étude etnographique d'un peuple noir]. Mexico City, Fondo de Cultura Económica.
Bunker, Pamela, Lisa Campbell, et Robert J. Bunker, 2010. « Torture, Beheadings, and Narcocultos ». Small Wars & Insurgencies, 21 (1) : 145–178. https://doi.org/10.1080/09592310903561668
Buvinic, Mayra, 1998. « The Costs of Adolescent Childbearing: Evidence from Chile, Barbados, Guatemala, and Mexico ». Studies in Family Planning, 29 (2) : 201–209. https://doi.org/10.2307/172159
Bromley, David, 2016. « Santa Muerte as Emerging Dangerous Religion? ». Religions, 7 (6) : 65–72. https://doi.org/10.3390/rel7060065
Calzato, Walter Alberto, 2008. « San La Muerte, devoción y existencia. Entre los dioses y el abandono ». [San La Muerte, dévotion et existence. Entre les dieux et l'abandon]. LiminaR, 6 : 26–39. https://doi.org/10.29043/liminar.v6i1.264
Calzolaio, Chiara, 2016. « Ethnographier la violence d'état : Récits et expériences des victimes de la lutte contre le narcotrafic à Ciudad Juárez, Mexique ». Cultures & Conflicts, 103–104 (3) : 35–61. https://doi.org/10.4000/conflits.19347
Chant, Sylvia, 1997. « Women-Headed Households: Poorest of the Poor? Perspectives from Mexico, Costa Rica and the Philippines ». IDS Bulletin, 28 : 26–48. https://doi.org/10.1111/j.1759–5436.1997.mp28003003.x
Cátedra, Pedro. M, 1989. Amor y pedagogía en la España Medieval. Estudios de doctrina amorosa y práctica literaria. [Amour et pédagogie en Espagne médiévale. Études de la doctrine de l'amour et de la pratique littéraire]. Salamanque, Ediciones Universidad de Salamanca.
Caulier, Mathieu, 2014. « Les politiques du genre face au conflit ». Journal des Anthropologues, 136–137 : 303–324. https://doi.org/10.4000/jda.4653
Chesnut, R. Andrew, 1997. Born Again in Brazil: The Pentecostal Boom and the Pathogens of Poverty. New Brunswick, NJ, Rutgers University Press.
——, 2017. Devoted to Death: Santa Muerte, the Skeleton Saint. Oxford, Oxford University Press.
Chesnut, R. Andrew, et Kate Kingsbury, 2019. « Pentecostalism in Brazil ». Oxford Research Encyclopedia of Latin American History. Oxford, Oxford University Press.
Casados González, Estela, 2016. « Impunidad e invisibilización de los feminicidios en Veracruz, Clivajes ». [Impunité et invisibilité des féminicides à Veracruz, Clivages]. Revista de Ciencias Sociales, 6 : 58–78. https://clivajes.uv.mx/index.php/Clivajes/article/view/2149
Fidanza, Juan Martin Lopez, et María Cecilia Galera, 2014. « Regulaciones a una devoción estigmatizada : Culto a San la Muerte en Buenos Aires ». [Règlement d'une dévotion stigmatisée : Le culte de la mort à Buenos Aires]. Debates do NER, 1 (25) : 171–196. https://doi.org/10.22456/1982-8136.49727
Freese, Kevin, 2005. The Death Cult of the Drug Lords: Mexico's Patron Saint of Crime, Criminals, and the Dispossessed. Fort Leavenworth, KS, Foreign Military Studies Office.
González, Olga, 2013. « Violence homicide, drogues et déstructuration sociale ». Amerika Mémoires, Identités, Territoires, 8. https://doi.org/10.4000/amerika.3956.
Graziano, Frank, 2006. Cultures of Devotion: Folk Saints of Spanish America. Oxford, Oxford University Press.
Hernández, Alberto, 2016. La Santa Muerte : Espacios, cultos y devociones. [La Santa Muerte : Espaces, cultes et dévotions]. México, El Colegio de la Frontera Norte.
Howe, Cymene, Susana Zaraysky, et Lois Ann Lorentzen, 2009. « Devotional Crossings: Transgender Sex Workers, Santisima Muerte, and Spiritual Solidarity in Guadalajara and San Francisco ». In Lois Ann Lorentzen, Joaquin Jay Gonzalez III, Kevin M. Chun et Hien Duc Do (dir.), Religion At the Corner of Bliss and Nirvana: Politics, Identity, and Faith in New Migrant Communities, p. 3–34. Durham, NC, Duke University Press
Kingsbury, Kate. 2020. « Death is Women's Work: Santa Muerte, a Folk Saint and Her Female Followers ». International Journal of Latin American Religion, 1-23. https://doi.org/10.1007/s41603-020-00106-2
Kingsbury, Kate, 2018. « Supplicating Santa Muerte: Fierce Female Folk Saint as Source of Empowerment for Mexican Indigenous Women ». The Global Catholic Review, March 18.
——, 2019. « The Knights Templar Narcotheology: Deciphering the Occult of a Mexican Narcocult ». In Robert J. Bunker et Alma Keshawarz (dir.), Los Caballeros Templarios de Michoacán: Imagery, Symbolism, and Narratives, p. 89–95. Bethesda, MD, El-Centro.
Kingsbury, Kate, et R. Andrew Chesnut, 2019. « In Her Own Image: Slave Women and the Re-Imagining of the Polish Black Madonna as Ezili Dantò, the Fierce Female Lwa of Haitian Vodou ». International Journal of Latin American Religions, 1–21. https://doi.org/10.1007/s41603-019-00071-5
Kingsbury, Kate, and Andrew Chesnut, 2020. « Not Just a Narcosaint: Santa Muerte as Matron Saint of the Mexican Drug War ». International Journal of Latin American Religions: 1–23. https://doi.org/10.1007/s41603-020-00095-2
Kelly, Isabel, 1965. Folk Practices in North Mexico: Birth Customs, Folk Medicine, and Spiritualism in the Laguna Zone. Austin, University of Texas Press.
Labrecque, Marie France, 2003. « Femmes, travail et domination masculine au Mexique ». Antropologie et Sociétés, 10 (1) : 199–217. https://doi.org/10.7202/006329ar
Lomnitz, Claudio, 2006. La idea de la muerte en México. [L'Idée de la mort au Mexique]. Mexico, D.F.
Machado, Daisy L., 2018. « Santa Muerte: A Transgressing Saint Transgresses Borders ». In Daisy L. Machado, Bryan S. Turner et Trygve Wyller (dir), Borderland Religion: Ambiguous Practices of Difference, Hope and Beyond, p. 65–73. New York, Routledge.
Perrée, Caroline, 2014. « Mexico, de San Judas à la Santa Muerte ». L'Homme, 211 : 17–39. https://doi.org/10.4000/lhomme.23587
Roman, Diane, 2014. « Féminicides, meurtres sexistes et violences de genre, pas qu'une question de terminologie! ». La Revue des droits de l'homme, Actualités Droits-Libertés. https://doi.org/10.4000/revdh.645.
Roush, Laura, 2014. « Santa Muerte, Protection and Desamparo: A View from a Mexico City Altar ». Latin American Research Review, 49 : 129–148. https://doi.org/10.1353/lar.2014.0064
Scott, James, 1990. Domination and the Arts of Resistance: Hidden Transcripts. New Haven, CT, Yale University Press.
Thompson, John, 1998. « Santisima Muerte: On the Origin and Development of a Mexican Occult Image ». Journal of the Southwest, 40 : 405–436. http://www.jstor.org/stable/40170073
Torres-Ramos, Gabriela, 2015. « Un culte populaire au Mexique : La Santa Muerte », Socio-anthropologie, 31 : 139–150. https://doi.org/10.4000/socio-anthropologie.2228
Uribe, Guillermo, 2009. Les transformations du christianisme en Amérique latine des origines à nos jours. Paris, Karthala.
Wolf, Eric R., 1958. « The Virgin of Guadalupe: A Mexican National Symbol ». The Journal of American Folklore, 71 (279) : 34–39. https://doi.org/10.2307/537957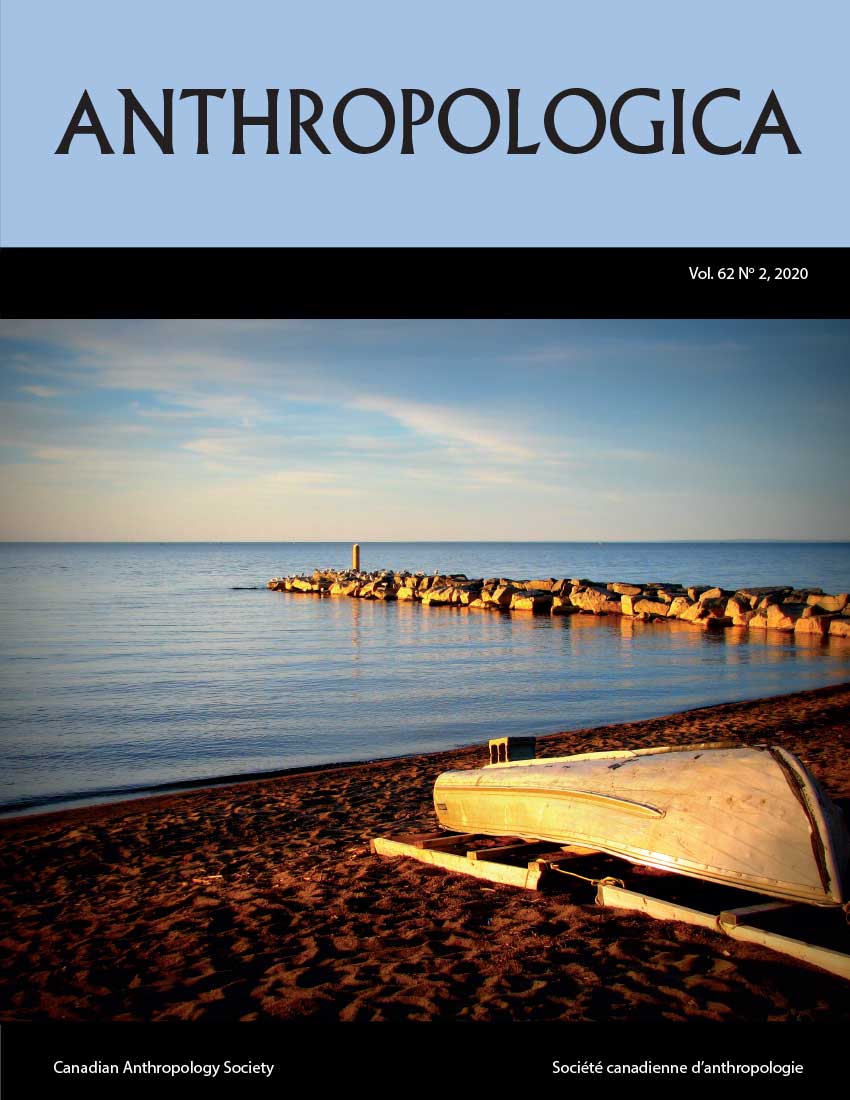 How to Cite
Kingsbury, K., & Chesnut, R. A. (2020). Santa Muerte : Sainte Matronne de l'amour et de la mort. Anthropologica, 62(2), 380-393. Retrieved from https://cas-sca.journals.uvic.ca/index.php/anthropologica/article/view/300
Copyright (c) 2020 Kate Kingsbury and R. Andrew Chesnut
This work is licensed under a Creative Commons Attribution-NonCommercial 4.0 International License.
Authors contributing to Anthropologica agree to release their articles under the Creative Commons Attribution-Noncommercial 4.0 Unported license. This licence allows anyone to share their work (copy, distribute, transmit) and to adapt it for non-commercial purposes provided that appropriate attribution is given, and that in the event of reuse or distribution, the terms of this license are made clear.
Authors retain copyright of their work and grant the journal right of first publication.
Authors are able to enter into separate, additional contractual arrangements for the non-exclusive distribution of the journal's published version of the work (e.g., post it to an institutional repository or publish it in a book), with an acknowledgement of its initial publication in this journal.